My new mango mint salad with veggies and cucumber noodles is a crunchy, salty and sweet combination that's just perfect for summer. And if you make the rice the day before, it's a really quick meal to throw together with minimal effort.
It's been forever and twenty minutes since my last recipe update, and I apologize for that. There's been all kinds of absolutely crazy drama going on in my world, and when it's all said and done in a few weeks, boy, do I have a story for you! But until then, I'd like to share my new recipe, a lovely and super healthy salad that's loaded with fruit, veggies and herbs. It's also oil free and McDougall diet friendly for my chums out there following that way of eating. Or if you'd prefer a lighter meal, you can always skip the rice and just double up on the cucumber noodles instead.
This dish comfortably serves four and holds up quite nicely for a day or two in the fridge if you have leftovers.
What You'll Need:
2 Ripe, fresh mangoes, peeled and diced
2 Cucumbers, spiralized (or diced finely)
1 cup of vegetable broth
12 oz bag of fresh diced vegetables
1 tablespoon of yellow miso paste
1/4 Cup of fresh cilantro, chopped and stems removed
1/4 Cup of fresh scallions, chopped
5 or 6 large mint leaves, roughly chopped
2 Cup cooked brown rice or your favorite rice
How To:
Mix the vegetable broth with the yellow miso paste until it is well blended, then snap up a 12 ounce bag of fresh, pre-cut vegetables. I bought Mann's brand "rainbow salad" blend which included shredded carrots, red cabbage, cauliflower and broccoli. You can use just about any combination of veggies, though I'd suggest sticking to more of a cabbage/cole slaw blend.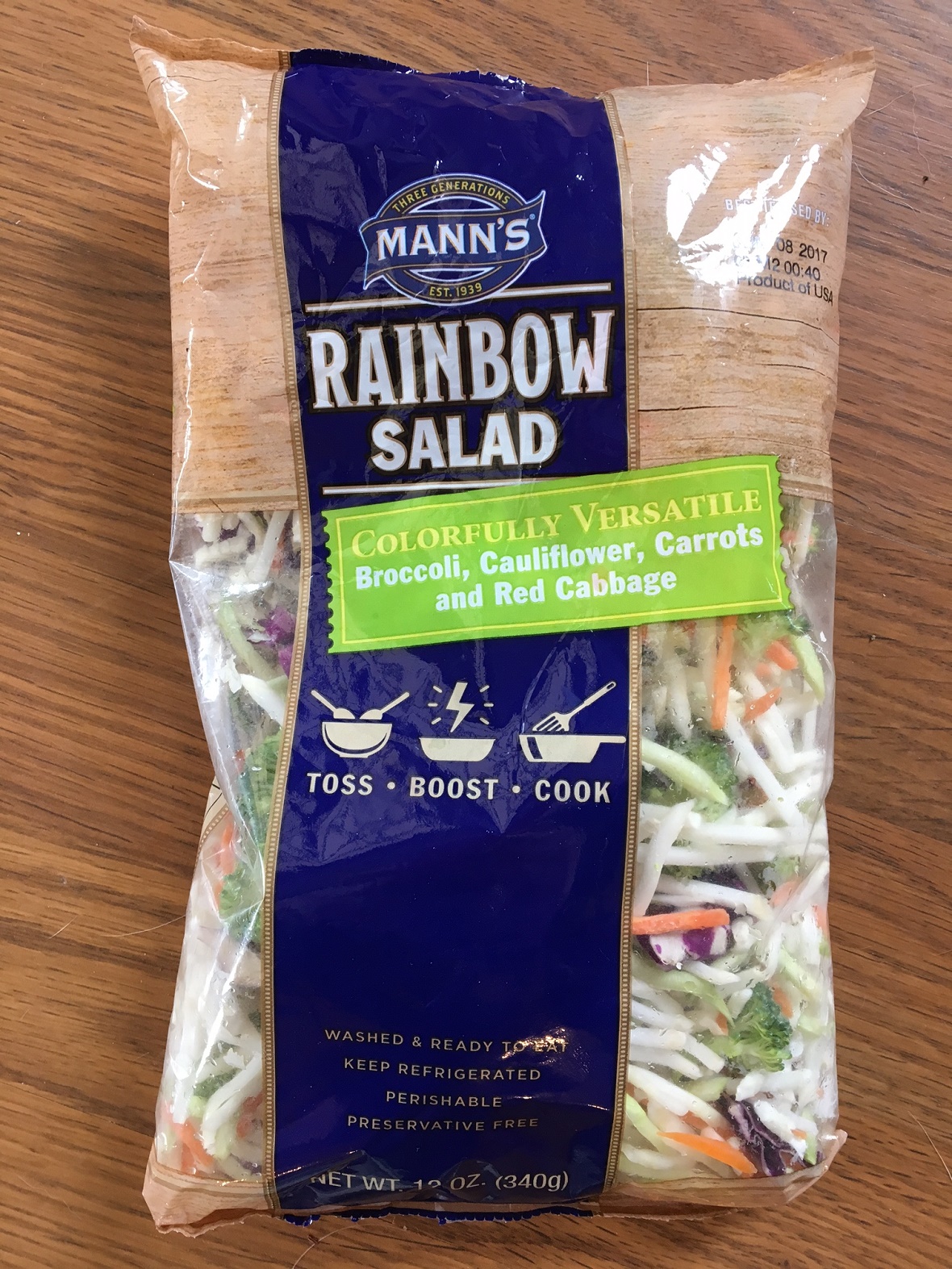 Grab a large bowl and mix the vegetables with the vegetable broth and miso blend and add the cilantro and scallions. Then let the mixture marinate in the fridge for a few hours for maximum flavor. If you don't have the time, skip this step. It's still going to taste good.
When you're ready to cook the veggies, rev up a large frying pan or skillet and cook the veggie blend over medium heat for about five or six minutes or until it's fully cooked, stirring occasionally.
Remove the pan from heat and allow it to cool. Meanwhile, if you have a spiralizer, go ahead and spiralize two cucumbers on a thin noodle setting. Conversely, you can also just dice them up if you don't have one. Chop up the mint and mango as well.
When you're ready to serve the salad, snap up your cooked rice and put about half a cup on each plate and put the veggie blend over it. Then adorn the sides of the plate with the cucumber noodles, mangoes and mint and serve. Or just serve it on a large tray and let folks help themselves. No dressing required, just mix everything together, the miso veggie broth combo gives the dish a mild;y salty, delicate flavor and the mango add sweetness. Cucumber noodles and mint give it a light and refreshing element.