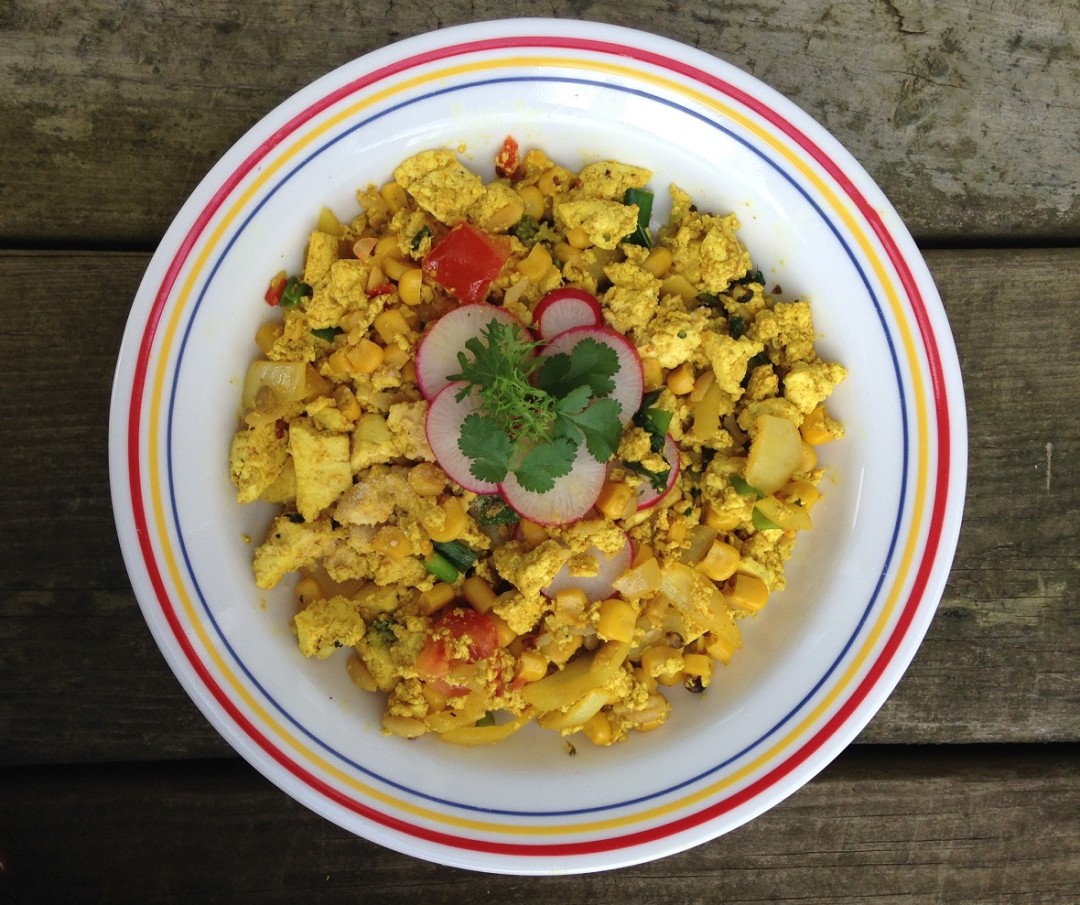 Siracha Lime Tofu Scramble Bowl
This protein and veggie packed tofu scramble is tasty on its own, but it's also yummy as a sandwich, a bagel topping, or in a wrap or panini. You can even toss some in with fried rice or a salad for lovely additional flavor and texture.
Ready to make some yummy siracha lime tofu scramble bowls? Great! But first let's rewind to the late 1990s for a tale of tofu scramble.
My hippie, earthy crunchy friend and I went to an health food store to pick up something for lunch. The shop had a small fresh food section that featured interesting looking premade creations, many of which were vegan or vegetarian. She suggested the scrambled tofu wraps, claiming that they were and "soooo good!" It was my first time trying scrambled tofu. And quite frankly, it's a small miracle that I ever ate it again after that. The tofu was pasty white, watery, and devoid of seasonings so it had absolutely no flavor. It was as if someone literally just crumbled it up, threw it in a pan, stirred it for a few minutes and hoped for the best. The wrap it was not so lovingly encased in was a sad, soggy mess that dripped all over my flannel shirt and doc martens. The memory still makes me cringe to this day. I remember wondering why anyone in their right mind would ever want to be vegan because they had to eat such terrible food.
Heh.
Fast forward to 2012.
I decided to stop eating eggs, at least for a while. So I started poking around online for scrambled egg alternatives and what do you know, up came lots of recipes for scrambled tofu. Only this time it didn't look vile! The tofu was a lovely shade of yellow, there were lots of nice spices involved and and it didn't seem to be watery, nasty, hot mess. So I tried a few recipes and actually enjoyed many of them. Eventually I tinkered with the idea until I came up with a recipe that suited my taste, and pouf, Siracha Lime Tofu scramble was born. It's pretty easy to make, and the spice and siracha amounts are merely an estimate. As written, it's pretty mild with just a bit of little kick to it, so use the amounts as a baseline to get started and add more spices and or siracha as needed to suit your palate.
Before we get started, it's also worth mentioning that I found a fab product that makes this recipe come together really quickly and easily. It's a frozen, mixed grain and veggie product called Up Sides and it comes in a few different flavors, but I've taken a shine to the orzo, grains and vegetable blend. It's got a nice mix of whole grains and veggies and the flavor is subtle enough that it's very good on its own, but it's even better incorporated into recipes. Plus I'm a big fan of anything healthy that cuts down on my prep time, so I'd highly recommend giving this product a whirl in this recipe. Fret not if you can't find it or don't want to bother. Simply use your choice of cooked grains with some finely chopped vegetables instead.
Makes approximately 4 servings.
What You'll Need:
8 Oz Package of Extra Firm Tofu, squeeze out as much water as you can
1/2 Medium Yellow Onion, Chopped
1 Tbs Sesame Oil or Sesame oil blend
The Juice of 1/2 of a Lime
3/4 of a Teaspoon of Siracha /
1/4 Tsp Cumin
1/4 Tsp Tumeric
1/8 Tsp Ground Corriander
1/8 Tsp Sweet Paprika
A small pinch of ground ginger (optional)
Sea Salt & Freshly Ground Pepper To Taste
A Small Handful of Chopped Scallions
1 Cup of cooked Up Sides brand veggie blend or 1 cup cooked grains and finely diced veggies
Garnishes, such as avocado slices, radish slices, cilantro, baby greens, etc.(optional)
How To:
Add one tablespoon of sesame oil or a sesame oil blend to your pan. You can use any oil, really, I just find that the sesame gives the tofu a nice flavor. Once the pan is hot, add your diced onions and all of the spices and season with a little salt and pepper. Let it cook for a few minutes over medium heat then crumble up the tofu and add it to the pan. Stir it all up and let it cook for another couple of minutes. Use a spatula to shift the contents so that everything gets seasoned and is cooked evenly.
Squeeze in the juice of one lime and add in 3/4 of a teaspoon of siracha. Then stir in one cup of the Up Sides veggie blend or your quiona veggie blend. Let it cook for about two minutes then taste it to see if it needs more salt, seasonings or siracha. If it does, add just a little at a time, because a little can go a long way! Toss in the chopped scallions and once it is seasoned to your liking, remove the pan from heat and plate it. Garnish it with the pretty, edible topping of your choice and enjoy.