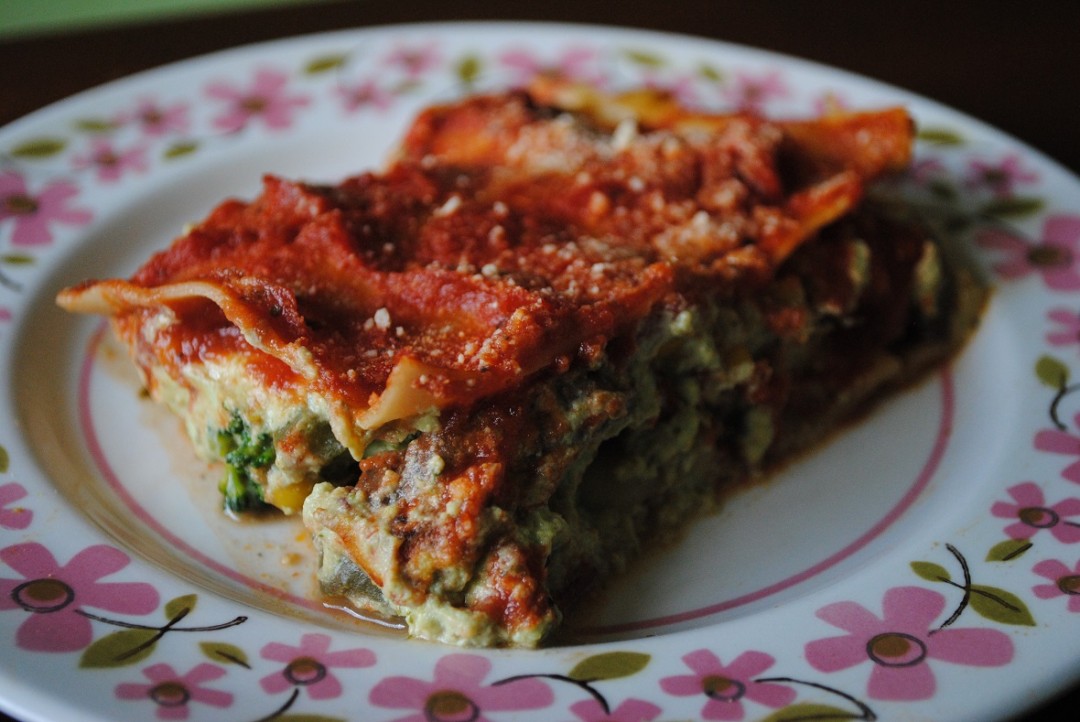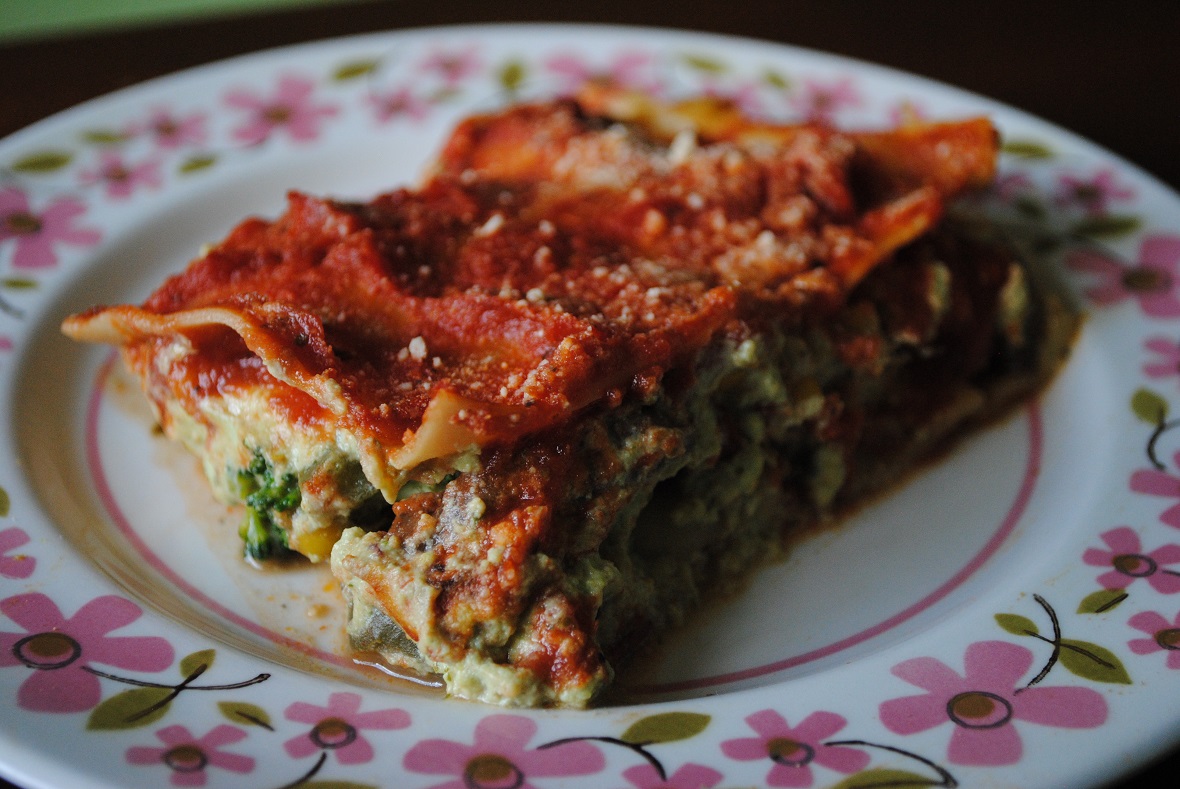 This veggie lasagna is so creamy, rich and cheesy that no one would ever suspect that it's dairy free! The recipe makes an 8 x 10 tray full of comfort food goodness, so enjoy some now and freeze a few pieces for later.
Makes 6-8 servings.
What You'll Need:
1 Package of Extra Firm Tofu
1 Large bunch of fresh basil, leaves only
1/4 Cup of Roasted and salted pistachios or 1/4 cup salted sunflower seeds (no shells!)
1/4 Cup Nutritional Yeast *
1/4 Cup Go Veggie Vegan Parmesan Cheese
1/4 Cup Olive Oil
1 clove diced garlic (optional)
1/8 Cup of Water
1/4 Tsp Garlic Powder
8 oz. Package of Baby Bella Mushrooms
4 Cups Of Assorted Vegetables
3/4 Tsp to 1 Tsp salt
No Boil Lasagna noodles
1 Jar of Your Favorite Tomato Sauce
Important Note: * Nutritional yeast is not the same thing as standard yeast, so please make sure you don't use a packet of baking yeast for this recipe! Nutritional Yeast is deactivated yeast that is enriched with vitamin b12. It comes in flaked or powdered form and has a cheese like flavor which makes it an excellent choice to use in vegan and dairy free cooking when you want to make cheese sauces or dips. "Nooch" as it is often referred to, can usually be found at the supermarket these days, though if you can't find it there try Whole Foods, any organic market or a health food store. And if all else fails, it's readily available online. I happen to like the Red Star brand, though Bragg's is quite good as well.
How To:
The first and most important step in making this is to whip up some delicious tofu pesto ricotta.
This works best with a blender or food chopper, but you can just as easily do it by hand in a mixing bowl. Just make sure to dice up the basil really finely.
Grab a block of extra firm tofu, the basil, pistachios or sunflower seeds, nutritional yeast, vegan parmesan, olive oil, water and the optional diced garlic clove. Put the liquids into the blender first, then crumble up the tofu and add all of the other ingredients. Blend it on "mix" until it has a thick, paste like consistency. If it clumps up and refuses to blend, unplug the blender and manually stir it with a spatula or large spoon to finish loosening it up. Season with salt and pepper, if desired and set it aside.
Next we're going to cook the four cups of veggies and the mushrooms. I steamed mine, but they can also be pan fried with a little olive oil if you'd prefer. Season the veggies with 3/4 to 1 tsp of salt and 1/4 of garlic powder and toss them to ensure that they are evenly coated. Let them cool down completely, then place them in a strainer and gently press down on the veggies so that any excess liquid drains to prevent your lasagna from being soggy.
Preheat the oven to 350 degrees.
Grab an 8 x 10 inch baking dish. You can use any kind of pan but skip the colorful vintage Pyrex for this recipe since it utilizes tin foil which can damage the top.
Spoon a layer of tomato sauce onto the bottom of the pan, followed by a layer of No boil lasagna noodles. Next put down a layer of veggies, followed by a layer of the tofu ricotta and another layer of noodles. Gently spread tomato sauce on top. Cover with aluminum foil and bake for 30 minutes.
After half an hour, take the lasagna out of the oven and remove the foil. Sprinkle the top with a dusting of vegan parmesan cheese or your favorite dairy free cheese and put it back into the oven for another 15 minutes, uncovered.
Take it out of the oven and let it cool down for about 10 to 15 minutes before cutting into bricks and devouring.
Additional Ideas/Suggestions: When making the tofu pesto ricotta, add a tablespoon of minced sundried tomato. Another thought…include a layer of your favorite vegan meat or sausage crumbles for added kick. Just cook them before adding them to the recipe. 🙂