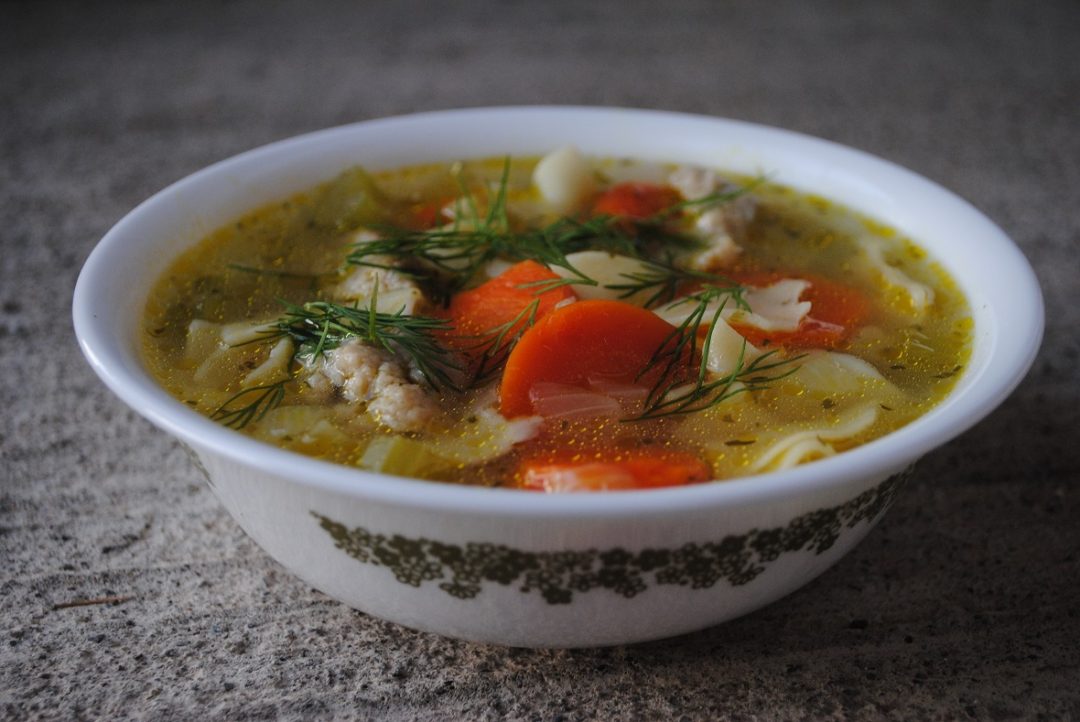 Hearty, comforting, savory and satisfying chicken soup, vegan style!
For many of us, winter, especially during cold and flu season, conjures up memories of eating homemade chicken soup. Warm, comforting and loaded with healthy veggies and noodles, this magical comfort elixir could supposedly help cure mild to moderate seasonal plagues of all kinds.
For years I tried to find a viable, vegetarian alternative to traditional chicken soup to no avail. Because let's face it, it's a very hard flavor to properly duplicate, and try as you may, it's not going to be quite the same. Then I happened upon a vegan and vegetarian friendly consomme powder that has a remarkably chicken like flavor, and that my web chums, was a total game changer! It's called Ossem Consomme Soup & Seasoning Mix. I've already gushed about it in my last post when I used it to make Authentic Italian Wedding Soup, and I cannot tell you how good this stuff is. This isn't any kind of paid product endorsement, I legitimately just love how tasty and versatile the product is and that it's really fantastic for those of us who crave familiar flavors and want to be able to try to replicate them without having to use any animal products.
The recipe below makes about 5 to 6 servings of soup. You can also add some store bought or homemade seitan or tofu like I did for added protein.
What You'll Need To Make the Soup:
6 Cups of Water
5 Tbs Ossem consomme powder
1 Medium Yellow Onion, chopped
1-1/2 Cups Celery
1-1/2 Cups Carrots
2 Tbs Olive Oil
Small pinch of freshly ground pepper
Small pinch of salt
1 to 1-1/2 Cups of your favorite noodles
A Bit of chopped flat leaf parsley or fresh dill, optional
How To:
Chop the carrots, onions and celery. Add two tablespoons of olive oil to a stock pot and add the onions. Season with a small pinch of salt and freshly ground pepper. Cook them over medium heat for about five minutes, then add the other vegetables. Stir and let them cook for another 5 minutes.
Next you'll add six cups of water to the stock pot, along with 5 tablespoons of Ossem Consomme Soup & Seasoning Mix. Stir it well so that it's fully blended, then bring it to a boil. Reduce the heat to the lowest setting and allow the soup to simmer for about ten minutes.
Meanwhile, prepare your noodles according to the instructions of the package, then add them to your soup once they're fully cooked. You don't want to cook them directly into your soup because it will absorb all of the broth, which would be most unfortunate.
Allow the soup to sit for a few minutes so they flavors can blend. Give your soup a good stir, then begin ladling the soup into bowls to serve. Garnish with a little bit of freshly chopped parsley or dill if desired, and serve.
Leftovers, if you have any, will do nicely in the fridge for a few days.