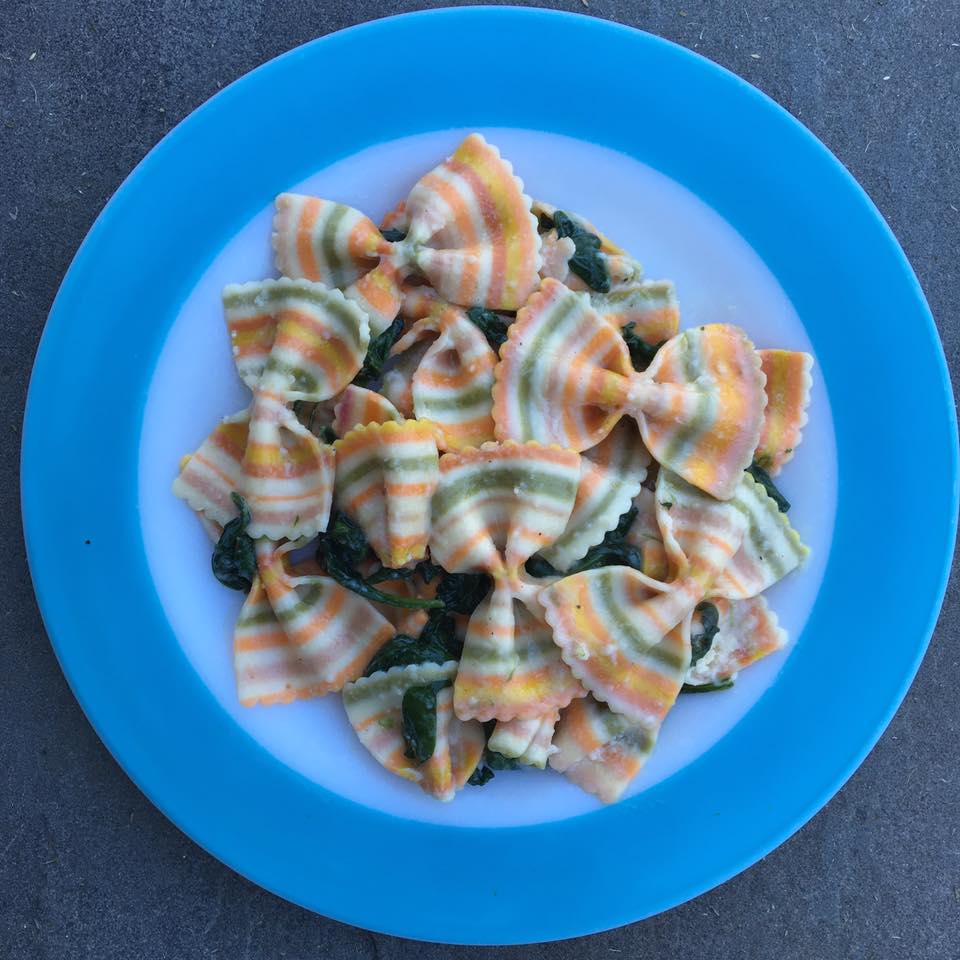 Vegan Cacio de Pepe – Pepper & Cheese Pasta
Cacio de Pepe is a popular Roman pasta dish that's traditionally made with spaghetti noodles and plenty of Parmigiano-Reggiano cheese along with cracked pepper. My vegan version incorporates a little bit of spinach, because as we all know, when you stuff your face with carbs, fat and oil, it's imperative to at least have the decency to add some veggies. 🙂

The local supermarket recently started carrying various gourmet pastas made in Italy. As irony would have it, it was the same exact brand that I bought at a tourist shop in Italy when I was on my honeymoon! I'm sure that most people who actually live in Italy would balk at the notion of eating rainbow bow tie noodles, but they're weirdly beautiful, taste mighty awesome and I had the warm fuzzies for yesteryear, so I went for it.
And as I toddled home I even had irrational visions of my family lovingly gathered around the table, forks in hand, smiling ear to ear and ready to enjoy the delicious, cheesy homemade pasta feast set before them. Yet when dinnertime rolled around I put the Cacio de Pepe in front of the everyone and my five year old immediately and uncharacteristically gave me stink eye. He proceeded to angrily announce that this was the worst meal I'd ever made him! This boy has a huge appetite and will typically and happily eat just about anything. But he hadn't even tasted it yet, so I was totally confused.
He pointed at his plate, and dramatically whined, "Someone drew all over my noodles and ruined my dinner!" Another kid started whining, too.
"Pasta is NOT supposed to have stripes on it!"
Good times. Peanut butter and jelly sandwiches all around!
So glad that I spent $6.99 on a small bag of fancy, imported rainbow noodles. Lesson learned. Kids are apparently not as impressed with nostalgia or novelty as I am, but on a positive note, they missed out and I had lots of tasty leftovers!
What You'll Need:
8 or 9 ounces of your favorite pasta
2 Tablespoons of Earth Balance Butter
2 Tablespoons of Olive Oil
1/2 Cup of Go Veggie vegan parmesan cheese
1/2 Cup of reserved pasta water
Two handfuls of baby spinach or your favorite fresh greens
1/4 Tsp freshly ground black pepper
Sea salt to taste
How To:
Boil water, salt it lightly and cook the pasta according to the directions on the package. Set aside some water from the pasta before discarding it, because it's going to be incorporated into the recipe.
Grab a large non-stick skillet and add your olive oil, ground pepper and a small pinch of sea salt to the pan. Once it heats up, toss in your spinach and sauté it for a few minutes until it wilts. Once it does, toss in the Earth Balance butter and vegan parm cheese. Mix it together, then add the cooked pasta. Carefully add in 1/2 cup of pasta water and combine everything together. This is going to make your dish nice and creamy when it mixed with the cheese, butter and oil. Remove the pan from heat and set it aside to cool. Add a bit more sea salt and pepper to taste, if needed.
Serve immediately.