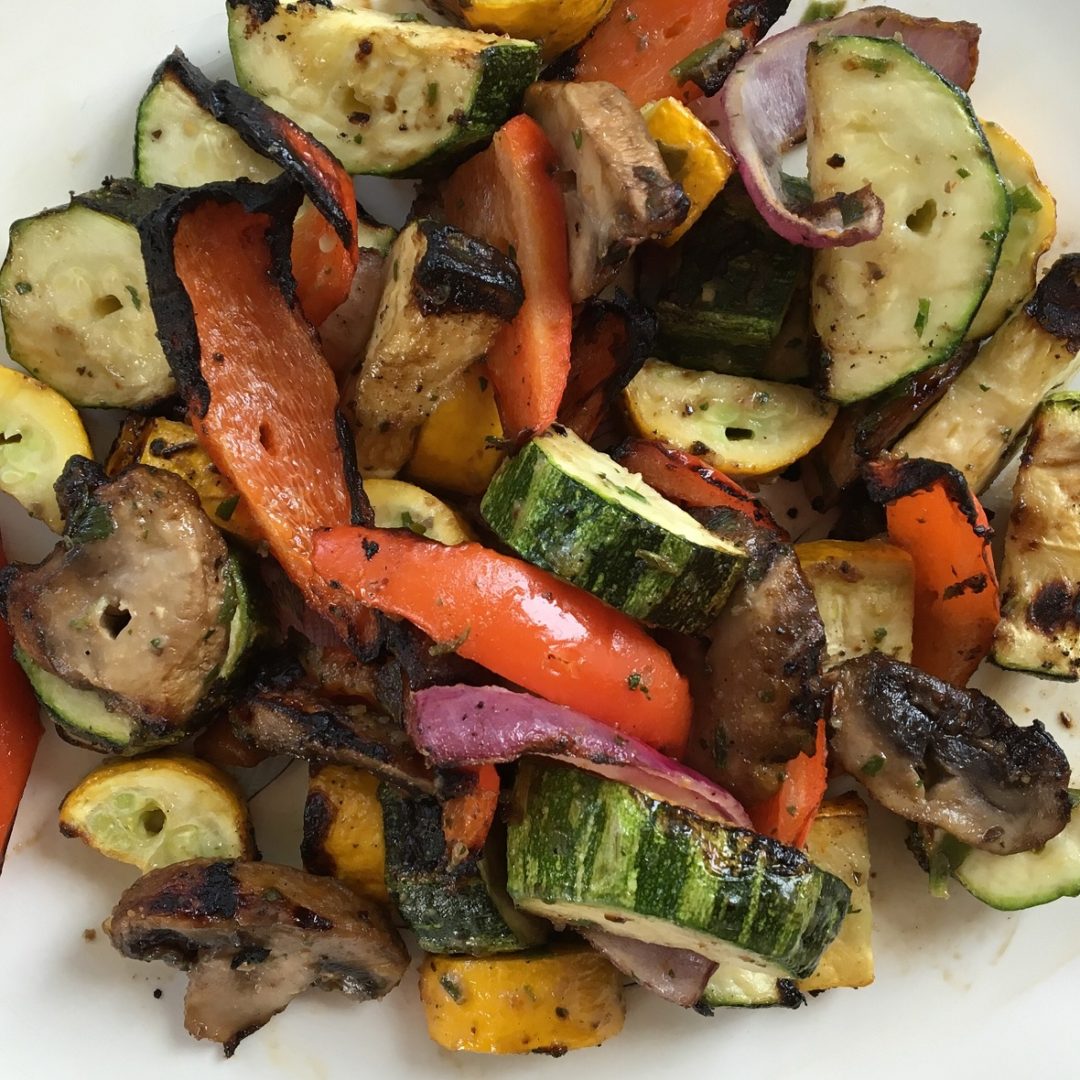 Maple Harissa Vegetable Kabobs
It's been in the 90s every single day for weeks now, which has made me feel tragically unmotivated to use the oven. Luckily it's grilling season so I've been spending some time playing around with creating homemade marinades…this is one of my favorites. It's got the whole savory and sweet thing going on and has a little kick without actually being spicy.
Maple Harissa veggie kabobs are great to make outside on the grill, though you can also use the marinade for roasting vegetables in the oven. It's even tasty over pasta as well as rice. And for tofu and tempeh. I've even used it as a condiment in wraps. Basically what I'm saying is, it's pretty versatile. 🙂
The recipe below was enough marinade for 3 large metal skewers. I used 2 zucchinni, 1 yellow squash, an 8 oz package of steak cut mushrooms, 1/2 of a purple onion, 1 small pepper and 3 small tomatoes, but use whatever veggies you like that will hold up to the heat of a grill. Just cut everything into medium sized pieces that will cook evenly.
What You'll Need:
1/4 cup olive oil
1/4 cup diced scallions
3 tsp maple syrup
3/4 to 1 tsp harissa
1 tbs of natural style peanut butter
1 tbs white miso paste
1/2 low sodium soy sauce
1/4 cup coconut cream (from a can of full fat, unsweetened coconut milk)
a dash of fresh lime juice
1 tbs cilantro

How To:

This recipe is painfully uncomplicated, and comes together in just a couple of minutes. All you need to do is grab a big honking bowl and just mix everything together. To get the coconut cream simply open a can of full fat, unsweetened coconut milk and skim the solid, thick white cream from the top and put it into your measuring cup. Set the coconut water at the bottom aside for something else if you have a use for it, otherwise, discard.

Blend everything really well by hand, or if you have a food chopper, blender or immersion blender use it to remove any lumps and make the marinade super creamy. If you want it a little spicier, just add additional harissa.

If you're using the marinade for veggie skewers, chop your veggies and add them into the marinade. Let them sit in the fridge for at least a few hours then carefully place them on metal skewers.

Leave the skewers on the grill for 10-15 minutes, checking regularly to make sure that they don't burn. Turn them halfway through so that they char evenly on both sides.

The skewers are going to be mighty hot, so let them cool somewhere for a few minutes before removing the veggies for serving.