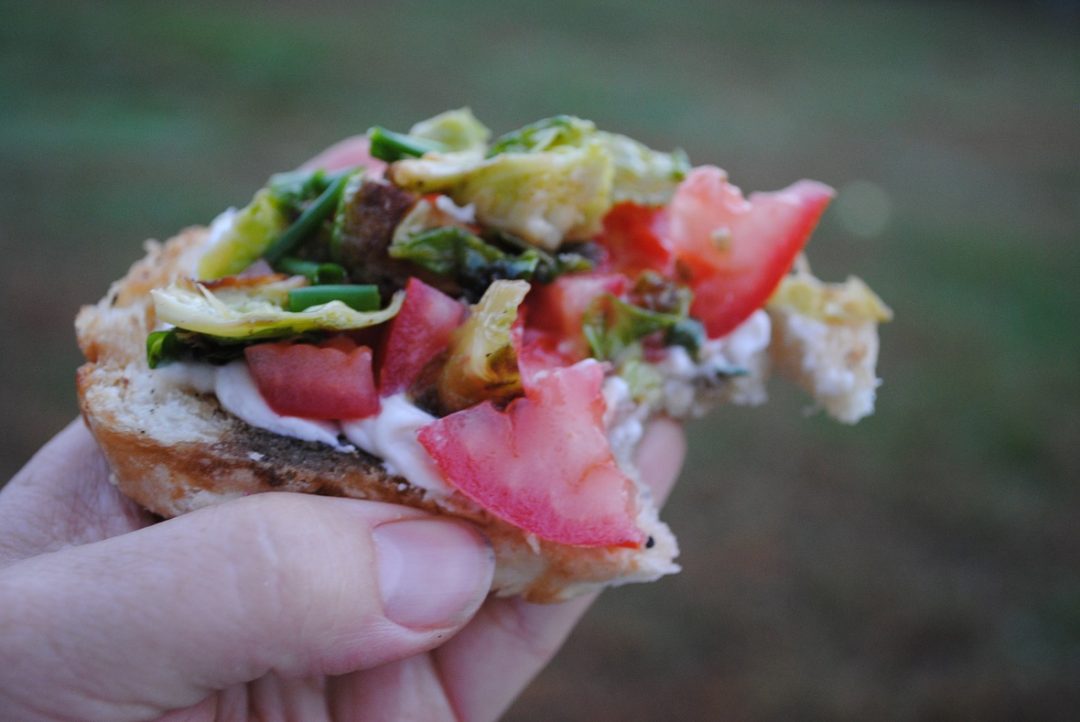 Garlic Bread Crostini with Plum Tomatoes & Roasted Veggies
Crispy, crunchy, creamy, savory and loaded with veggies? Yes please! These yummy crostini's are a simple, quick appetizer that will delude others into thinking you've spent all day making fancy pants appetizers.
Despite the fact that it's the middle of October, Mother nature missed the memo and it's 80 degrees out. So I'm sitting in the backyard in a tank top and shorts, shamelessly snarfing down these garlic bread crostini with plum tomatoes and roasted veggies while the dog gives me stink eye for not sharing.
Somehow Max is already 8 months old, which means he's spent half a year with us already. It's hard to believe that the 8 pound labrador retriever puppy we brought home in April is now 55 pounds. It's also hard to believe that I still have some semblance of my sanity after sharing my house with an enormous, high energy puppy who has inadvertently knocked me over, eaten all the pillows in the house and accidentally jumped into my face and smashed my nose (hello deviated septum!). Did I mention that he loves snatching things from my garden? Last month he grabbed a pepper and ran off with it. He quickly learned that not all peppers are sweet.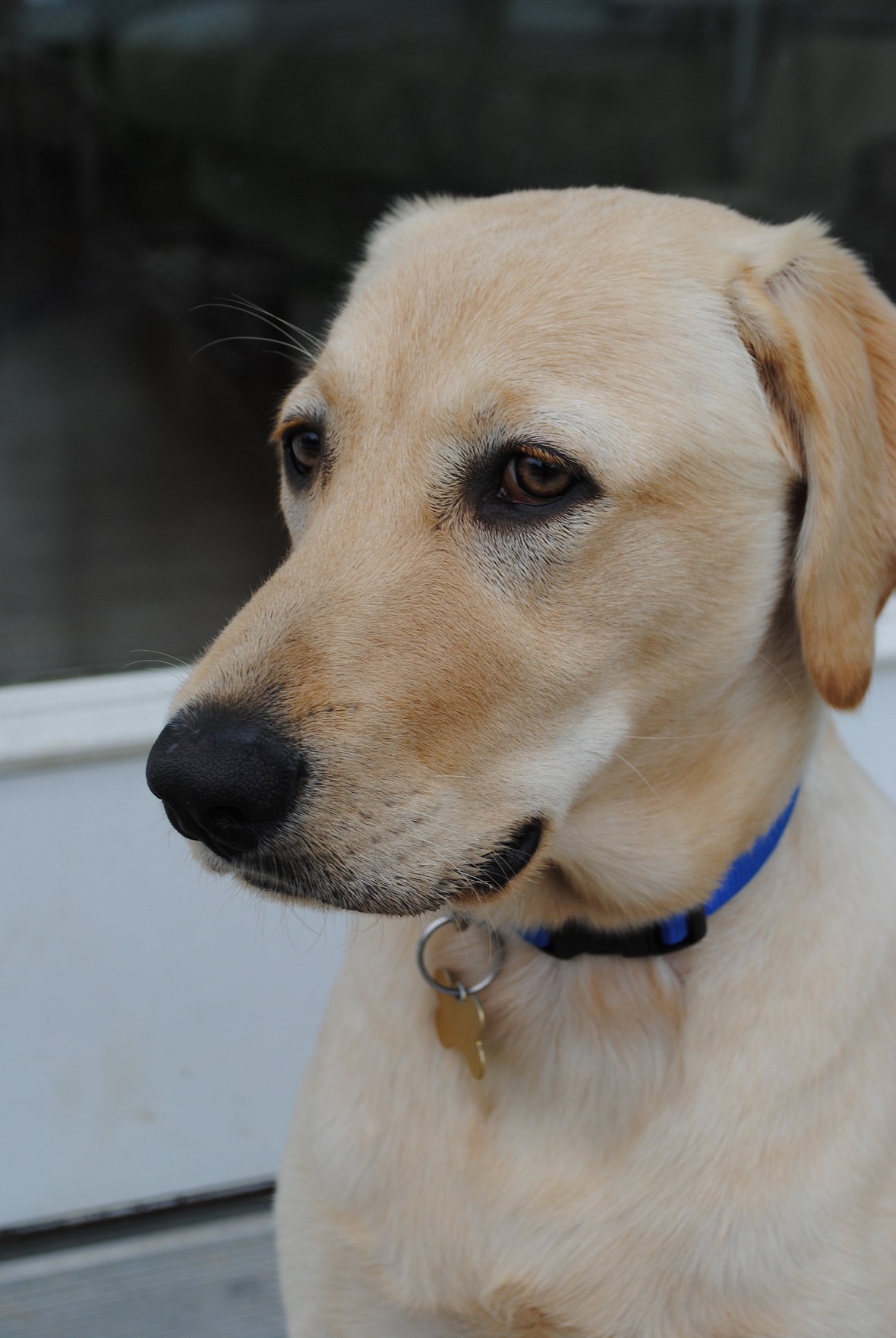 Even though he's still young and hyperactive with an affinity for creating the most epic sort of chaos, Max is a really, really sweet dog and we've finally reached some sort of understanding with each other and developed a loving bond. We've survived potty training, teething and his unfortunate head cone post neutering. He's inspired me to get of my lazy butt and take him hiking so he can burn off some energy and I can work on getting healthier. Max has also reminded me that no matter how stressful or crappy your day is, just about anything can be made better with some cuddles and big slobbery kisses. Aw. Warm fuzzies!
But enough about my fur enabled companion.
On to the cooking project of the day….crostini's!
Crostini's are spectacularly easy to make, and super adaptable. You start with grilled bread and mix and match whatever toppings you'd like, piling them high to create an enviable and delicious treat. I've made mine with some vegan cream cheese and chives, topped with leftover sauteed brussel sprouts and plum tomatoes, but feel free to top yours with whatever strikes your fancy.
Below are the basic instructions. By the way, I haven't included any measurements, because it'll depend on how much you're making and what you want to top it with. To make a vegan version, use a dairy free cream cheese such as the "Go Veggie" brand. Conversely, to make it vegetarian, cream cheese or marscapone will do the trick.
Also, if you don't have a outdoor grill, you can get a similar effect by using a grill pan on your stove top. It'll still have the cool marks and be crispy and delicious.
What You'll Need:
A few slices of Italian Bread
Olive oil
A pinch of garlic powder
A few chives, chopped
A smear of cream cheese or marscaopne
Sea salt to taste
Leftover roasted, grilled, sauteed or raw veggies
Fresh diced plum tomatoes
How To:
Cut the Italian bread into 1/2″ wide slices.
In a small bowl, mix olive oil, a small pinch of sea salt and a tiny bit of garlic powder and blend the ingredients together.
Brush each slice of bread with the olive oil mixture on both sides and place the bread on a hot grill outside. Let it cook for two to four minutes, longer if needed, keeping a close eye on it to prevent burning. The whole thing should take less than 5 minutes. Once grill marks begin to appear, remove the bread and set it aside to cool.
Meanwhile, blend together the cream cheese or marscapone with the diced chives. Chop up some plum tomatoes as well as whatever other vegetables you'll be utilizing.
Once the grilled bread has cooled, spread the chive cheese onto each slice of bread then add the diced tomatoes and veggies.
Garnish with additional chives, if desired and serve immediately.