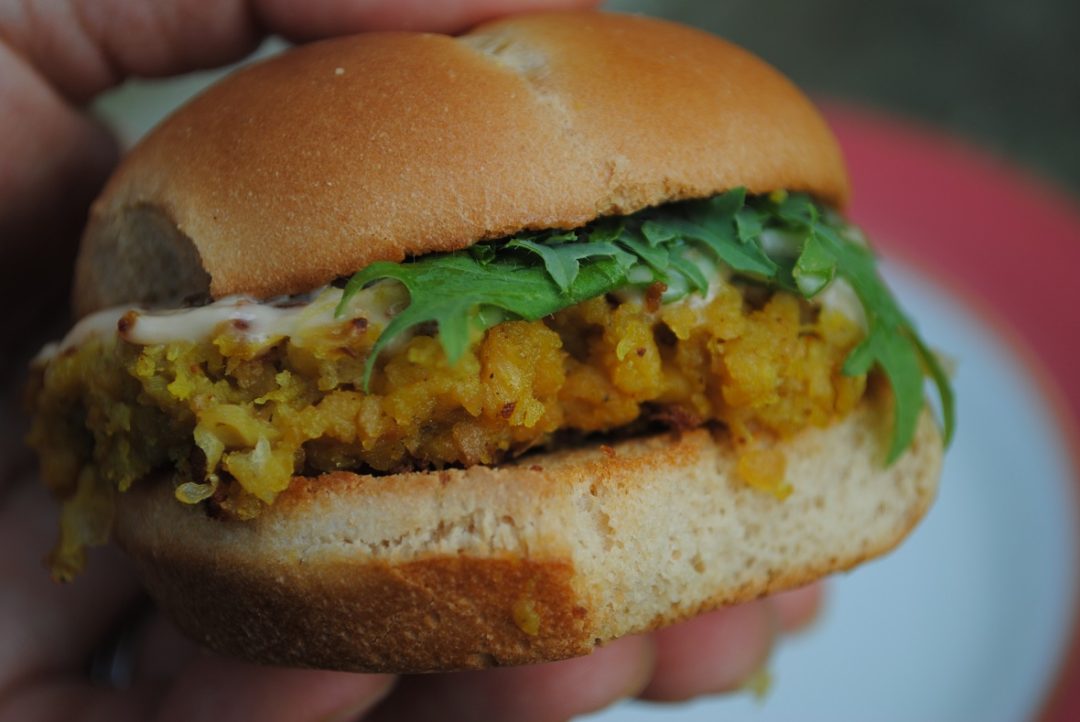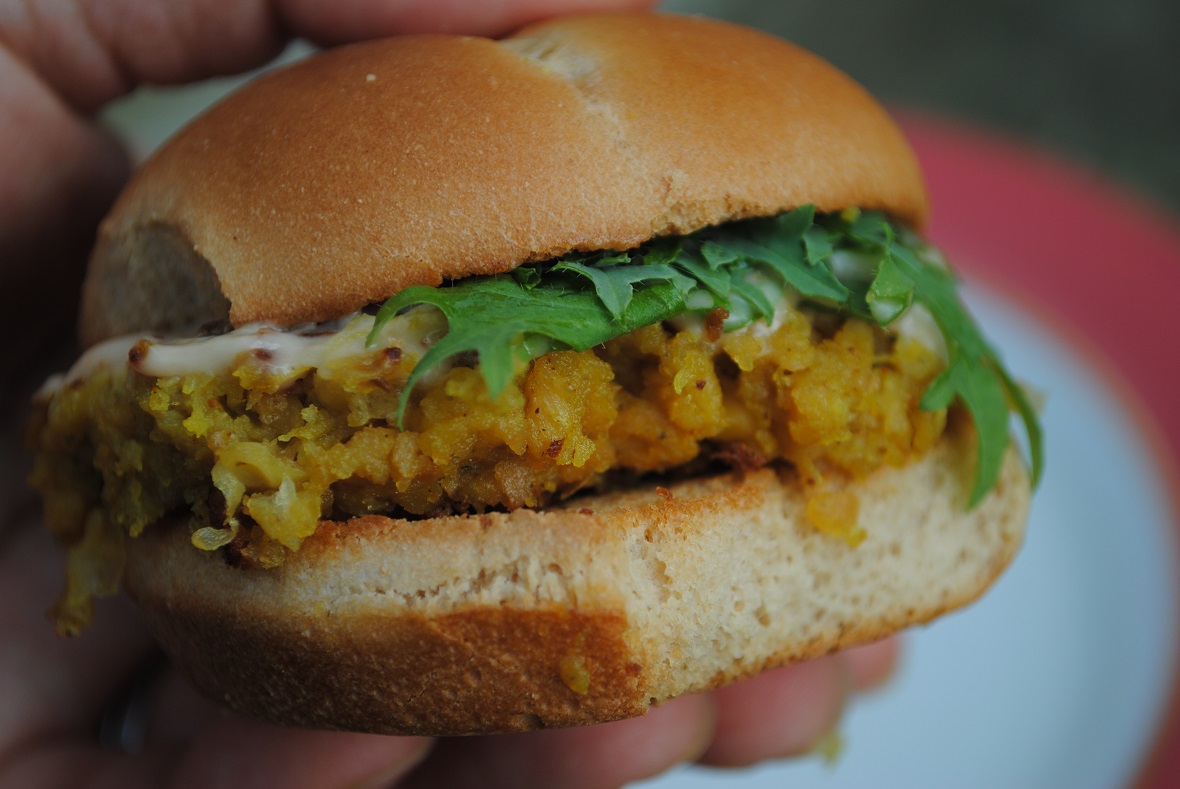 Vegan Gondi Sliders with Maple Harissa Aoili
These aromatic, flavorful vegan burgers are a unique, fusion spin on a Jewish Iranian soup and dumpling dish.
Gondi are Persian style dumplings that are traditionally made with ground poultry, turkey or veal as well as chick peas or toasted chick pea flour and a bevy of delectable, savory herbs including ground cardamom. It's a Shabbat favorite, commonly served in chicken broth, sometimes with potatoes, though it can also be enjoyed as an appetizer served with fresh mint or basil.
For a while now I've been working on coming up with a vegan variation of Gondi, and was happy to discover that combining many of the time-honored ingredients with a few new ones did the trick. Only instead of using them in soup, I decided to have a go at making them into burger patties and pan frying them in oil. I was thrilled with how they came out…the freshness and uncovnentional flavor was a welcome change from the frozen grocery store veggie burgers I've become accustomed to.
The recipe makes about 6 or 7 burgers from a single batch. But you can always double the recipe for a crowd.
What You'll Need:
1 Cup of TVP (Textured Vegetable Protein)
1 Cup plus two tablespoons of vegetable broth
1-1/2 Tsp chicken style consumme (I used Ossem brand, it's marked "suitable for vegetarians")
Egg replacer to equal one egg.
1/4 cup grated yellow onion
10 oz can of Goya chick peas (the small can, not the 15 oz)
1/2 Tsp tumeric
1/8 Tsp powdered corriander
1/8 Tsp ground cardamom
A small pinch of powdered ginger
A small pinch of cinnamon
1 Tsp sea salt
1/4 Tsp freshly ground black pepper
1/4 Cup Vital Wheat Gluten
2 Tbs Olive oil or Grapeseed oil for frying
2 Tablespoons of Vegan Mayonaise
1 to 1-1/2 Tsp of maple syrup (use the real stuff!)
A few drops of harissa
How To:
Cook the TVP per the instructions on the package. I would suggest using vegetable broth to give it optimal flavor, though it can also be made with water. It can be done on the stove top, though in the interest of saving time, I followed the microwave directions and it was extra quick and easy. Once cooked, let it cool down for a few minutes.
Meanwhile, grab your can of chick peas and drain the liquid out and rinse them under cool water. Then use a potato masher to smash them up a bit. You want a course mash, just enough that there are no whole chick peas left.
Next grate a yellow onion using a fine grater. You'll want to get the onion shredded as finely as possible so a food processor isn't going work here. Doing it by hand is a bit of a pain, but trust me, worthwhile! When you're done, put the onions in a small strainer and squeeze out any excess liquid so it's not watery. Then put it into a large mixing bowl and add in the cooked TVP, consumme, mashed chick peas, all of the herbs, salt and pepper as well as egg replacer to equal one egg. Gently combine the ingredients then add in 1/4 of a cup of vital wheat gluten and blend it all by hand for a minute or two. The purpose of the vital wheat gluten is to thicken the mixture so that your burgers are sturdier and less likely to fall apart during cooking.
Allow the mixture to sit for about 5 to 10 minutes minutes, then form them into individual patties and pan fry them in either olive oil or grapeseed oil over medium heat Cook them for just two or three minutes on each side or until they are evenly browned.
Remove them from heat and serve them on rolls, rye or pumpernickle bread with some maple harissa aioli and baby kale or your favorite greens.
To make the maple harissa aioli, combine the maple syrup and mayo, then add a drop or two of harissa. Stir it until well blended then taste it to see if it has enough heat. If not, add more until the flavor spins your pinwheels. The recipe makes enough for about three burgers. Simply double or triple it if you need more. 🙂