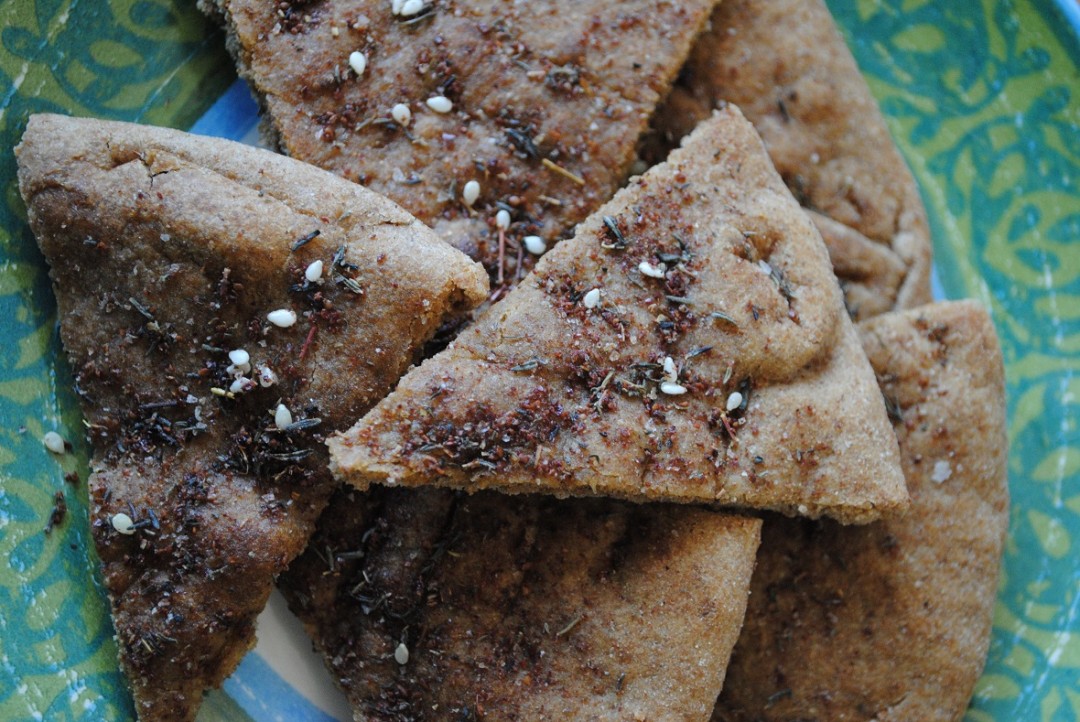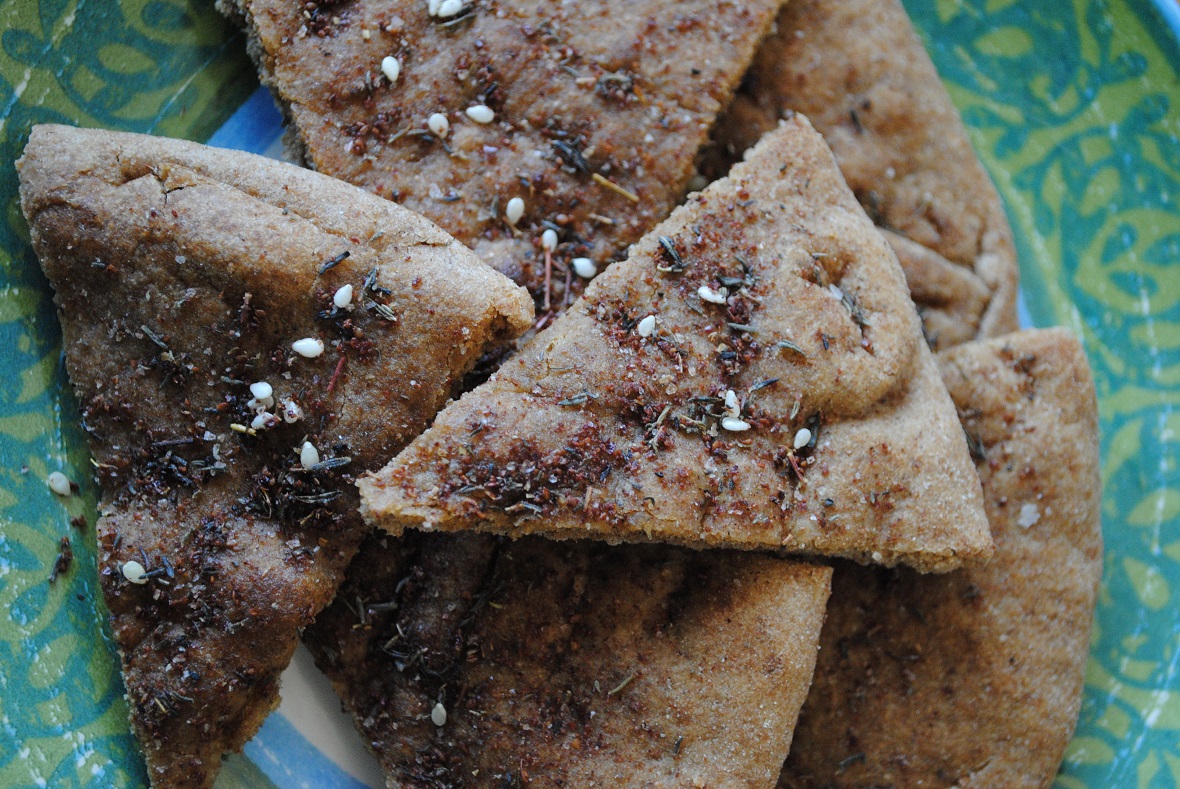 Easy Za'atar Bread Pita Chips
Za'atar is a popular Middle Eastern spice blend that is often combined with olive oil and used for seasoning breads, roasting vegetables as well as in various marinades, spreads and dips. The combination typically includes sumac, thyme, savory, marjoram or oregano, salt and sesame seeds.
Two years ago I was at a farmers market in New England when I happened upon a stand selling homemade breads, rosewater and pistachio pastries and wonderfully fragrant baklava. The vendor was a really friendly fellow, and I quickly snapped up a container of baba ganoush and some za'atar bread to go with it. I wasn't familiar with za'atar bread, but it sure looked appealing, smelled amazing and it seemed like a natural match for my other purchase, so I assumed it would be good.
Good would be an understatement. It was bloody incredible, especially when served with a a big dollop of that savory, sweet baba ganoush made with pomegranate molasses on top. It became my go to weekend lunch that summer and when the farmers market season ended I decided to replicate the overall flavor at home, but as a crispy chip instead of as bread.
While I wasn't quite ambitious enough to take up baking homemade pitas, I did successfully recreate the the general concept as pita chips using store bought pita bread, olive oil and good quality za'atar seasoning from Penzey's. I'd initially tried another brand purchased at a grocery store and found it flavorless and bland. Quality counts here, so either consider making your own (there are oodles of good recipes online) or snag some at a Middle Eastern market or specality spice shop for the best results.
These are super easy to make and great for a quick snack or appetizer. A single pita bread equals one serving. Make a few if you're planning to share with some chums.
What You'll Need:
whole wheat pita bread
za'atar seasoning
olive oil
How To:
Liberally sprinkle the za'atar seasoning on a piece of whole wheat pita bread.
Then add a small drizzle of olive oil to the pita bread and use a silicone pastry brush or dull butter knife to evenly spread and mix the seasoning onto the pita. Add additional seasoning if desired, then wipe away any excess oil with a paper towel. The pita should have a thin coating of seasoning and olive oil on it, but it should not be dripping, soggy or oily.
Place the pita bread on a baking sheet and bake it in a pre-heated oven at 425 for roughly 5 minutes until it is crisp.
Let it cool for about 5 minutes. Use a sharp knife to cut it into triangles (like a pizza) and serve with hummus, tabouli, baba ganoush, red pepper dip, tsazkiki sauce or your favorite savory spread.