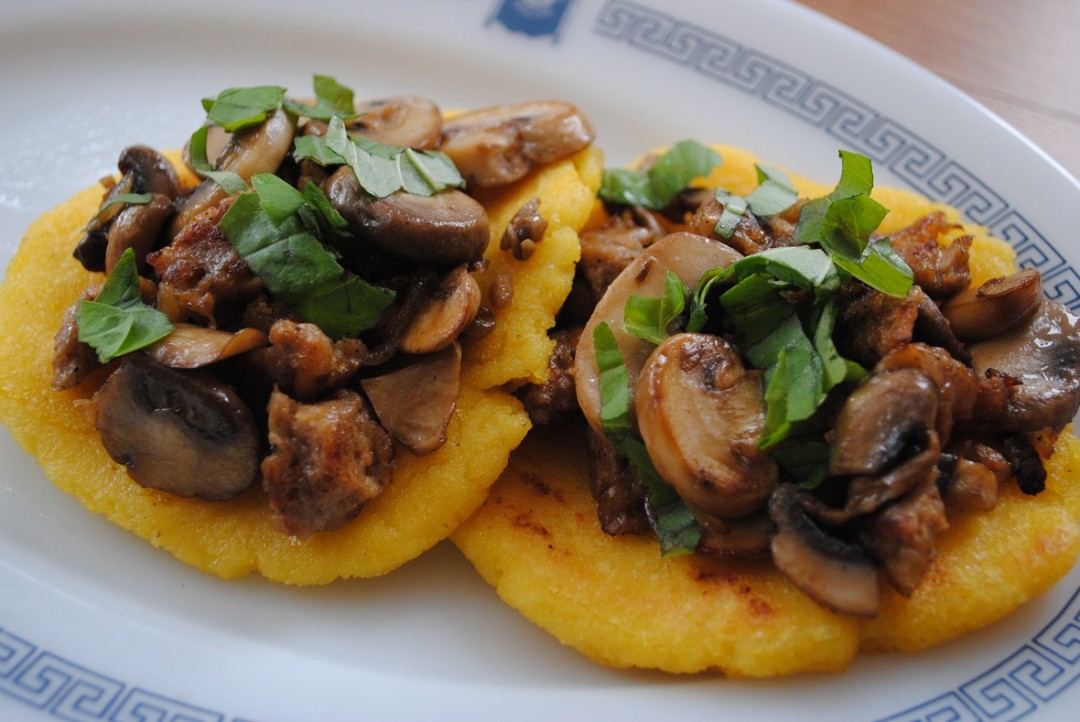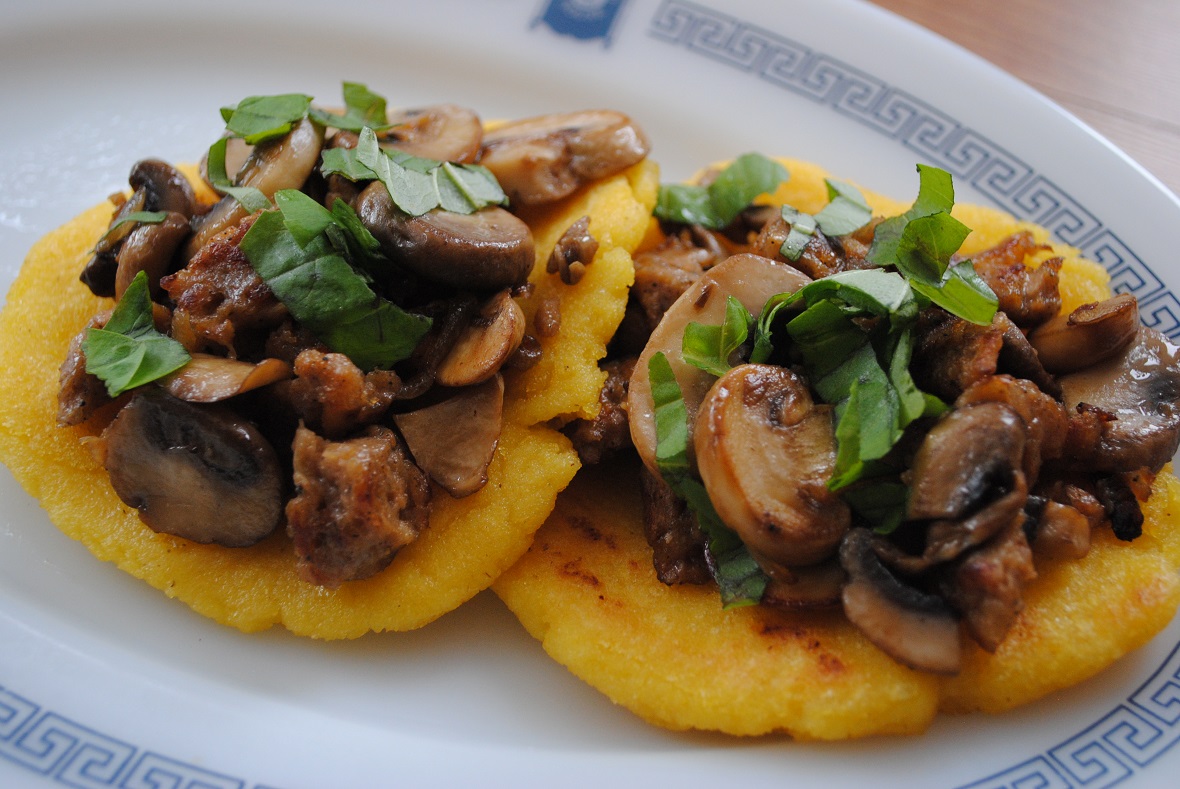 Arepas with Vegan Sausage and Mushrooms
Not only are these Latin American corn cakes delicious, but they are extremely easy to make, incredibly versatile and are equally delicious in both savory and sweet dishes. My arepa topping combines mushrooms, garlic and vegan sausage for a hearty, filling meal that serves 3-4 people.

What You'll Need:
Goya brand Masarepa (precooked corn flour)
Two small knobs of Earth Balance butter or butter
8 oz. Sliced button or baby bella mushrooms
1/2 package of Lightlife Gimmielean refrigerated vegan sausage
1 small yellow onion, chopped fine
1 large garlic clove, chopped fine
1/8 tsp of sugar
a few pinches of salt
a pinch of freshly ground pepper
A few basil leaves, sliced into ribbons for garnish
* Important note: Make sure that you purchase Masarepa when you go shopping, which is corn flour that has been precooked. Do not purchase plain corn meal, because it won't work in this recipe.
How To:
To make the arepas, follow the instructions on the back of the package of the Goya Masarepa. The instructions are simple to follow, and the whole process from start to finish should take about half an hour to forty minutes or so. It makes quite a few arepas, so it'll likely that you'll have a few leftovers. Pop them in the fridge for later and snack on them them with peanut butter, your favorite jam or some cream cheese and chives. Yum! 🙂
Anyway, I digress…
Set your completed arepas aside to cool.
Whip out a large frying pan and melt a small knob of Earth Balance butter or butter. Once the butter is melted and the pan is nice and hot, add in your diced onions, a pinch of salt and 1/8 of a teaspoon of sugar. Cook it over medium heat and allow the onions to caramelize a bit, sporadically stirring the mixture. Once the onions start to become translucent and brown slightly, add the garlic to the mixture and a bit of freshly ground pepper. Let it cook for a minute or so, then add in 8 ounces of sliced baby bella or button mushrooms. Season the mushrooms with a dash more salt. Cook it for about three or four more minutes or until the mushrooms are tender. Taste it to see if it is seasoned to your liking, if not, add more salt and or pepper.
Remove the mixture from the pan and set it aside.
Add another bit of butter to the same pan. Carefully crumble up the Lightlife Gimmielean sausage and cook it until it starts to brown evenly throughout. This is going to take a couple of minutes, so continue watching the pan closely and breaking up the sausage bits with the spatula to ensure that it cooks evenly and is crumbled up into smaller pieces.
Once the sausage is fully cooked put the mushroom mixture back into the pan and gently stir it to incorporate all of the flavors. Remove the pan from heat and set it aside.
Lay out the arepas on a serving tray, and use a tablespoon to delicately transfer a bit the mixture onto the arepas.
Garnish with some ribbon cut fresh basil and serve.